It's safe to say that it's been an up and down career with Sheffield United so far for Rhian Brewster.
After being signed by Chris Wilder for around £20m, the goals have hardly come in abundance for the former Liverpool man. So far, he's scored just four times in 54 appearances, and has yet to his the target this season.
Of course, it would be harsh to count Brewster out or hold this season against him. He's started just the two games and is coming off the back of a serious injury from last season. In fairness to him as well, he was flying before he got that knock, scoring three in six starts as United picked up the pace.
But what now for young Rhian? With Oli McBurnie securing the number nine shirt and Billy Sharp on his way back from injury, it's shaping up to be another testing time for the England under-21 man.
Frustration Clear
There can be no getting away from the fact Rhian Brewster looks an agitated figure of late. He has been getting minutes from Paul Heckingbottom, getting 20+ minutes in each of the last two games. However, those who have watched those games will have noticed pockets of frustration from Brewster.
MORE UNITED STORIES
Against Reading, he was clearly desperate for a goal and on more than one occasion flung his arms into the air when the ball didn't quite reach him in and around the box. Against Hull, he came on and played with an intensity that was bordering on being a liability. He got into a needless altercation with Tigers defender Tobias Figueiredo. Sure, the Hull man played his part, but Rhian showed no hesitation in getting involved either.
Clearly, this is a striker who wants to play and after enjoying a good pre-season, must have fancied himself this season.
Next Steps For Brewster
It must be said, this isn't written in criticism of Brewster. Nobody wants him to do well more than us. It's more to look at where he goes from here.
There is little he can do about McBurnie's good form and he's obviously happy for his fellow striker. The celebrations say that, both during and after games. Likewise, he can't do much about Ndiaye and Berge backing McBurnie up from deeper. Both are exceptional and widely regarded as United's best players.
But at the end of the day, Brewster is a striker who wants goals. United are out of the EFL Cup, so that's potential minutes gone there for him. McBurnie isn't getting dropped, and Sharp is coming back. Reda Khadra, James McAtee, and Daniel Jebbison all want minutes as well.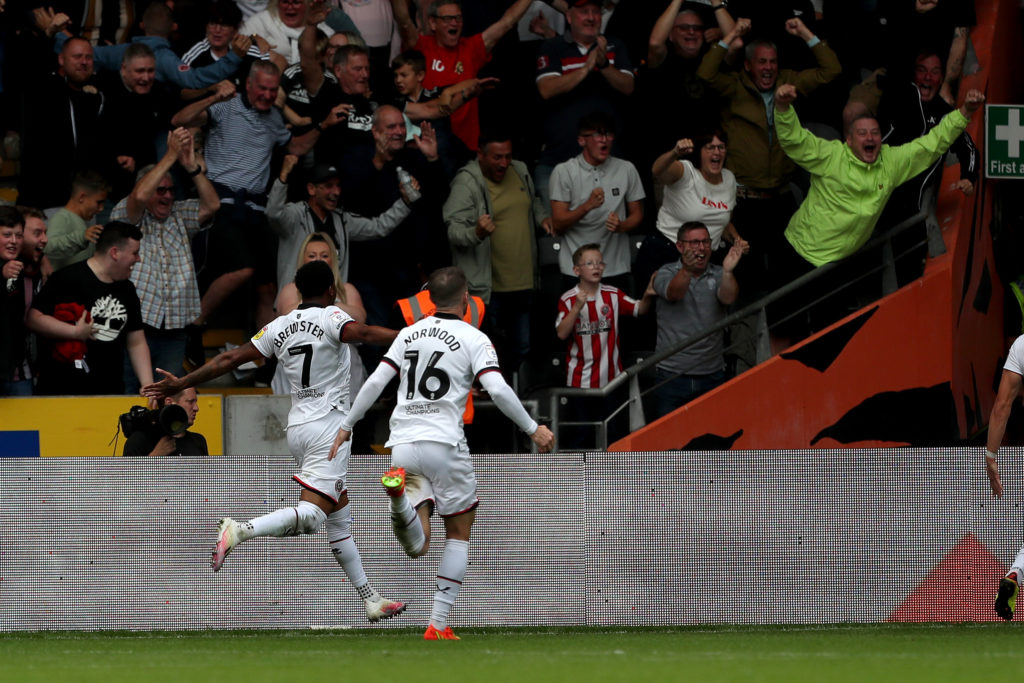 Ultimately, Brewster is going to have to be patient and try and do all he can in the minutes he gets. The way United's injury list is stacking up, there could well be opportunities for him. Likewise, the cluster of games in the lead up to the World Cup should see him get the odd start.
From there, Brewster needs to show the hunger, appetite, movement, finishing, and prowess that McBurnie has started to show. At 22, time is firmly on his side and Paul Heckingbottom will be patient with him. But for his own sake, the goals need to start coming again, and that's something only he can control on the pitch.
Related Topics